Short Biography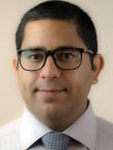 Mostafa Ajallooeian (mȯstafä ajal-lü-iän, مصطفی اجل لوییان) got his B.Sc. in Computer Engineering from Kashan University, with the final project 'Desing and Implemetation of a Recognition Engine for Farsi OCR'. He got his M.Sc. in Machine Intelligence and Robotics from University of Tehran (2009). His Masters project was 'Design of a learner system based on attractors and babbling for imitation', accomplished in Robolab, UT.
Mostafa joined BIOROB-EPFL for his Ph.D. in July 2010 and is currently working on AMARSi project. The goal of his PhD thesis is to participate to the design of movement controllers for rich motor skills based on systems of coupled nonlinear dynamical systems (e.g. oscillators), incorporate sensory feedback into them, and apply them to compliant quadruped and humanoid robots.
His recent reaseach focuses on the implementation of adaptive locomotion control for trotting over rough terrain. The proposed locomotion control architecture is modular, and consists of:
– Morphed oscillators: Oscillators capable of encoding arbitrary trajectories as globally assymptotically stable limit cycles. Used for encodng nominal locomotion profiles.
– Adaptive modules for virtual force/velocity control: Similar to the idea of virtual model control, but integrated into oscillator dynamics. Used for implementing posture control.
– Simple reflexes for fast adaptations: This implements the adaptive behaviors like stumbling correction, compensate for a missing contact, and lateral push recovery.
Publication
Journal Articles
Conference Papers
Theses
Posters