CIME
Interdisciplinary Centre for Electron Microscopy
Booking of Microscopes
Breadcrumb navigation
Quota (limited number of reservations) applies only for day-use:
Weekend and Night reservations will not be taken into account !
Office Hours
Tuesday morning and Friday morning from 08h30 to 10h00, MXC 132. At this time you can meet with one of CIME's scientific staff to discuss your training or service request without appointment..
---
CIME Seminar 20 September 10-12h, ELG 120
Peter Clifton (CAMECA), Atom Probe Tomography: Principle of LEAP, Sample Preparation, Applications in Materials- and Life-Science
SSOM Interdisciplinary Symposium on 3D Microscopy 2019
http://www.3dssom2019.ch/
Seminar announcement:
Nicolas Bologna from EMPA will give a seminar on May 13 in room MXC 315 at 14:00.
Template-assisted grown III-V semiconductor nanowires: A transmission electron microscopy study
abstract can be downloaded from here: Abstract Bologna
New online cours on transmission electron microscopy
Transmission Electron Microscopy for Materials Science
new on coursera: https://www.coursera.org/learn/microscopy
Built from the ground up, the course is intended to be a starting point for understanding and working with TEM; to be used either as a stand alone resource, or in complement to books and in person teaching or coaching. We hope that it proves useful to our electron microscopy community, and look forward to receiving any feedback.
With regards
Cécile Hébert and Duncan Alexander
EPFL-SB-IPHYS-LSME
Congratulations !
Emad Oveisi wins Microscopy Today Innovation Award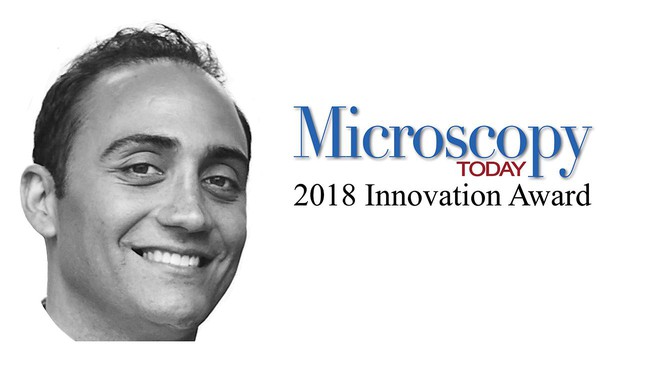 see EPFL Memento
"Diamonds from a lost planet"
Congratulations Farhang Nabiei for your Nature Communications paper (link here ) that produced such a refreshing excitement in the news (see rdp.epfl.ch of april 18th for example).
Here a souvenir picture of your thesis defense presenting a "fancy" story…
CIME Day 2018
CIME-Day 2018, general assembly and user's day
…. and the poster prices go to
Urszula Cendroswska STI-IMX-SUNMIL for the poster:
Gold nanoparticles as a novel tool in amyloid studies
and
Stéphane Poitel SB-IPHYS-LSME for the poster
Electron Microscopy : From In-Situ Observations to Post-Test Microstructure and chemical analyses
Congratulations and Thank you !!
new Gemini-SEM 300 operational !
Dear XLF-30 users,
The new CIME SEM (Zeiss GEMINI 300) is installed, and we are planning the training/transition of the XLF-30 users on the new instrument.
We offer all trained XLF-30 users, a ½ day basic training/transition on the new Gemini-SEM (free of charge). The EDX-training (new EDX System and interface) will not be covered in this transition and requires a separate training (free of charge for users already trained for EDX).
The advanced and new options available on this instrument also require a separate training request and will be charged according to the new rules, i.e., users will be billed for the microscope hours and operator-assisted service.
To schedule your basic and advanced training sessions, we will ask that you fill the form below and send it to [email protected] as soon as possible.
MC2017 news
Congratulations to conference chairs Marco Cantoni, Rolf Erni and Markus Dürrenberger for a successful Microscopy Conference 2017 held in the SwissTech Convention Center from 21–25 August!
In the MC2017 awards, congratulations to:
Pelin Güven of SUNMIL for winning a student poster prize in the session MS 5 on Carbon-based materials, soft matter and polymers for her poster entitled: Nanoparticles for modification of vesicles.
Dr Emad Oveisi of CIME for taking 3rd place in the Best Image Contest "Art in Science 2017" for the image entitled: Rice Terraces – Faceted grain growth in hexagonal barium titanate ceramics:
Width of barium titanate image: 24 μm.
Specimen courtesy of Sina Hashemizadeh of Ceramic Laboratory – EPFL.
Decommissioning of XLF-30 SEM
The days of the faithful XLF-30 are counted !
It will be replaced with a ZEISS Gemini-SEM 300 in August.
In order to ease the transition we have found an agreement with Prof. G. Fantner's lab where the equipment will serve as an experimental platform in the future:
On July 11/12 the XFL-30 will be transferred to the BM building. Prof Fantner has agreed to make the instrument available to the CIME users until they have been trained on the new SEM.
You will be able to continue to reserve and use the XLF-30 in its new place as soon as it has been moved and tested. As soon as the new microscope will be fully operational we will start to train XLF-30 users on the new platform (free of charge).
Older News and events
Link to previous news and announcements