FAQ
Where is laba located in Basel?
The laba office and student studios are located in Ackermannshof, a renovated building complex dating from the 14th to the 21st  century in the St. Johann neighbourhood of Basel, 10min from the main station (
www.ackermannshof.ch
).
From Bahnhof SBB take Tram 11 (direction St. Louis) to 'Johanniterbrücke'.
The neighborhood has a historical setting, typical of Basel, and boasts a great infrastructure of shops, restaurants, bars and architectural offices.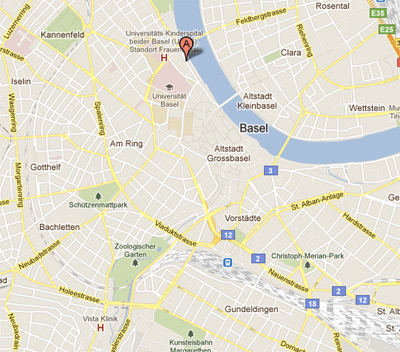 laba – Laboratoire Bâle
EPFL ENAC IA laba
Ackermannshof
St. Johanns-Vorstadt 19-21
CH-4056 Basel
How will I get to Basel?
Students are asked to organize themselves to travel to Basel either by train, car sharing or other means of transportation. Upon request each laba student will receive financial support for the academic year 2013/14 to support lodging and transportation.
How long is the trip to Basel?
The train ride from Lausanne to Basel takes 2:12h.
What days will I work in Basel?
Epfl studio days for the 4th year are on Tuesday and Wednesday. Laba students are expected to attend studio in Basel on these days.
 
Will I have a studio space at the epfl in Lausanne, too?
Yes, laba students will have additional studio space at the epfl in Lausanne.
Where can I stay overnight in Basel?
laba has made group reservations at the Youth Hostel in Basel in the St. Albanstal designed by Buchner Bründler Architects. The night costs appr. 42 CHF and includes breakfast and a mobility ticket for public transportation in Basel.
The first night 17./18.9.2013 is prebooked for you and paid by laba.